>> Saturday, September 27, 2008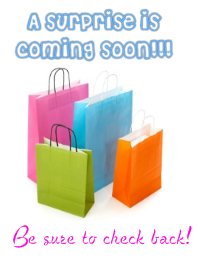 With school starting back up, I've really slacked on the blogging. So sorry. I've also slacked up on reading other blogs. That makes me really sorry. Sometimes I do lurk, though, and not always leave a comment. At times this internet is so slow that there isn't enough patience in me to do it:)

I'm having some pretty tough days with my head pain but I am continuing on. Just if you would like to pray, that would be very much appreciated and I thank you in advance. I go see my neurosurgeon Thursday, October 2nd. Beckie, at God's Gracious Gems (she's on my blog roll to the right) is taking me again. Last time she did that it was a 24 hour affair. Oh boy. And she's willing to take me again. Is she CRAZY or what? (I'll answer that -- YES!) but I adore her. She's great! Please please pray for that trip. I'm driving to her house and then she'll take it from there.

As you can see above, there is a surprise coming soon. My good HTML coder, Kristen from Exemplify (she's on my blogroll, too,) is helping me with it so you KNOW it's gotta be GREAT! Not sure when but soon -- then all will be revealed. Just wait -- it's gonna be G-R-E-A-T!!